Update on Impact of Production Grants by Women in Cinema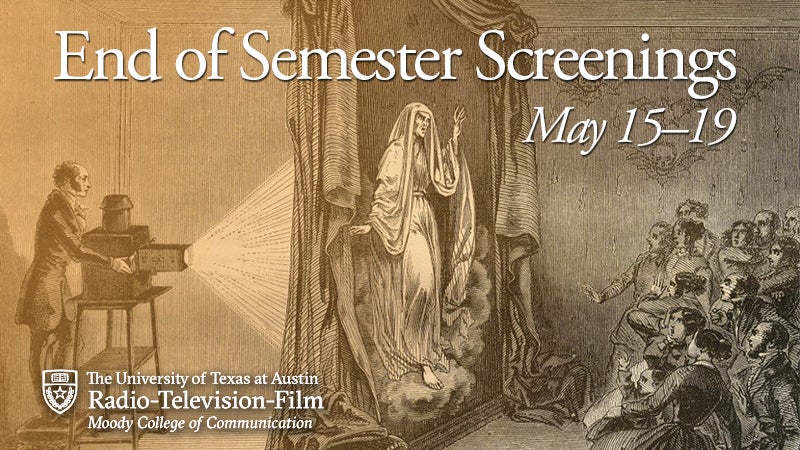 Some good news related to the production grants given out by Women in Cinema in RTF at The University of Texas at Austin.
Here is a list of the 2019 Undergraduate Thesis Production Films. There are a total of 17 films created by 18 directors (One film had co-directors). Ten of the directors are women. 8 of the directors are men.
Compare that to 2016, when 12 of the thesis films had men directors and 1 was directed by a woman. In 2017, it was 8 men and 3 women. In 2018, it was five and five.
The grants given out starting in 2017 by Women In Cinema plus all the outreach and other activities they do have really had an impact! Special thanks to major donors Kat Candler and Moving Image Arts & Education .
https://rtf.utexas.edu/…/end-semester-screenings-spring-201…
2019 Undergraduate Thesis Films
RTF seniors enrolled in the Production Thesis class, taught by Associate Professor Richard Lewis, will screen their films for the public on Sunday afternoon, May 19th. Beginning at noon at UT's Hogg Memorial Auditorium, the event is free and open to the community.
EPILOGUE
Director: Eboni Ellinger
Producer: Jordan M. Auzenne
HOMESICKENING
Director: Emma Rappold
Producer: Annika Horne
DP:Heather Grothues
CATFISH
Director: Alicja Zapalska
Producer: Annika Horne
UNION MADE
Director: Rikki Bleiweiss
Producer: Claire Norris
FEMININA
Director: Ilana Mittleman
Producer: Kat Quinn
LUPE
Director: Marisela Campos
Producer: Yannira Herrera
LIMINAL
Director: Nicholas Castorina
Producer: Wesley Herbst
MANONG
Director: Rajinee Buquing
Producer: Lucky Nguyen
PARANOID
Director: Veronica Alvarez Ferreira
Producer: Melissa Metyko
WELCOME TO THE MACHINE
Directors/Producers: Aish Noubad, Eric Johnsen
DP: Noble Walker
RAIN IN THE DESERT
Director: Benjamin Root
Producer: Luisa Gonzalez
DP: Noble Walker
THE ALL-NIGHTER
Director: Elias Hinojosa
Producer: Brittany Braun
WATCH IT
Director: Rene Castro
Producer: Emily Reyna Ortega
INDIGO
Director: Ethan Yun
Producer: Trevor Nitschke
AND THE RIDER WAS DEAD
Director: Tiger Hill
Producer: Hannah Goulden
SOMETHING'S WRONG WITH PETER
Director: Nick Bonesteel
Producer: Skyler Frost
DP: Tiger Hill
LUCKY GIRL
Director: Sidi Wang
Producer: Zhixuan "Sonia" Li